The EMMETT Technique Training Courses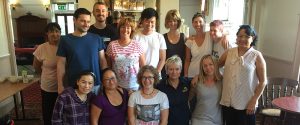 There are 2 types of courses available for those interested in learning the EMMETT Technique.
1) The EMM-Tech Short Course
Created by Ross Emmett so that non-therapists would have the opportunity to use some of his work to help themselves, their family and friends. The course teaches 11 moves which have been specially selected from the EMMETT Technique Practitioner Course.
This course has proved very popular with my clients so they can continue with gentle muscle releases themselves at home. Bring along a partner so you can learn to help each other.
Increasingly also used by existing therapists and exercise professionals as an introduction to the EMMETT Technique, courses are run all around the country by registered EMM-Tech Tutors and here in New Malden, Surrey by Lesley Salt.
Click here to read more about the EMM-Tech Short Course.
2) The EMMETT Technique Practitioner Course
Although primarily aimed at existing therapists and medical professionals interested in extending their skills, the EMMETT Technique Practitioner training workshops are open to all who are interested in learning a simple method of relaxing and releasing muscle tensions, improving movement and relieving pain.
The course is divided into two-day learning blocks, called Modules, with 6 Modules in total.  Review days are built into the training which runs for 11 days in total.
Click here for more information about the EMMETT Technique Practitioner Training
Click here for training dates.
Learn Now!
Learn two of the EMMETT Releases here with;
Gastroc Calf Pay per Release helpful for fluid retention in the lower leg, knee and ankle discomfort or restriction and balance and stability.
SCM Pay per Release for stiff necks and limited rotation.